Managed IT Services for Law Firms
Increase billable time. Enjoy greater security. Love your technology.
Request a consultation
Technology Systems That Work
for
Legal Practice
Your IT services provider should know your unique IT requirements. Our teams manage IT for law firms across every type of law practice across The Golden State. We strategize around your information systems and tools, including:
Document Management Software:
iManage
NetDocuments (ND)
Worldox
Docuware
Legal Time Keeping and Accounting Software
Pro Law
TimeSlips
iTimeKeep
Aderant
Elite
Coyote
LawPay
Practice Management Software
Information Systems Technology
Microsoft 365 Support
Both Mac & Windows computers
On-premise servers
Private cloud hosting
Public cloud management
Hybrid cloud setups
Data center (colo) server hosting
Not seeing a technology on this list? Please call us. We are constantly building our breadth and depth of knowledge and this is not a comprehensive list.
A
Full Stack

of IT Services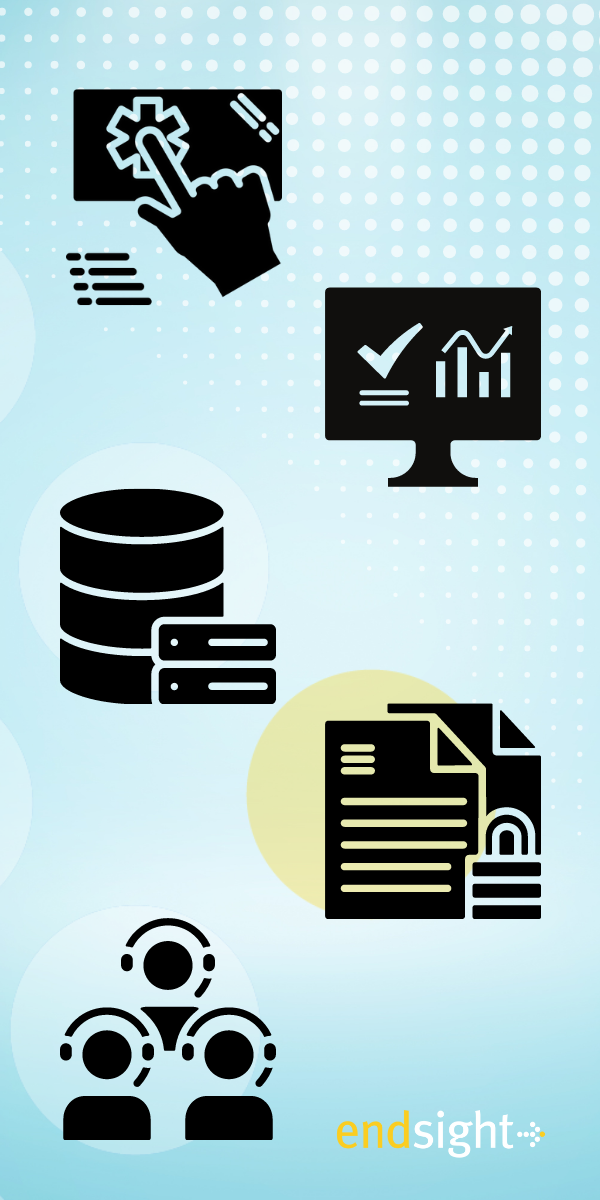 We created Endsight to be a single source of IT leadership and management for small and midsize law firms.
Our services:
Cybersecurity Implementation
Client Strategy
Systems Monitoring & Maintenance
Cloud Management Solutions
Technical Support Helpdesk
On-Site Technical Staffing
Special Projects:

Outlook Migrations
Microsoft 365 Setup & Configuration
SharePoint Intranet Builds
Cyber Insurance Compliance
Office Moves
System Upgrades
And much, much more!
Looking for something not listed? Just ask by filling out the contact form below or calling. We are happy to help.
Over 200 California-based law firms have benefited from Endsight's comprehensive IT support. If you have between 10 and 100 users (our sweet spot) give us a call. We focus on the priorities of law firms:
providing effective security for your firm and clients
maximizing your team's billable time
maintaining a problem-free computing environment
A
Proven

IT Services Formula
Most managed IT services companies have to focus on what you can "inspect," like reactive support response times. Meanwhile, they struggle to attract and retain the talent required to learn and adapt to new technologies, cyber threats, and evolving best practices.
Deeper problems go unresolved and client networks underperform or remain exposed to risks.
Our managed IT service is different. We invest in our people. We consistently iterate on workflows, processes, and the holistic ecosystem of IT support. And we are committed to helping our customers thrive, from the Partner to the Paralegal. Because of this, our customers experience superior results.
Investments in employee engagement, skills development, & career path yield higher employee retention.
Cohesive service delivery model spanning strategy, projects, preventative maintenance, and reactive support.
75% fewer issues per user per month than industry average

98% positive reviews

<5 minute response time
Small Team Feel. Big Team Support.
Your support requests will be handled by our legal specific business unit, we call this a "pod". A pod consists of every business and technical role required for a robust IT support team. Every client works with a specific team who over time will get to intimately know your environment and your people.
A client's team consists of:
Technical Account Manager advises on strategy and is your primary contact.
Account Specialist oversees the day-to-day technical support.
General Manager ensures your managed IT services team's effectiveness.
Professional Services Engineers handle migrations, new user set ups, and larger projects.
Response Center Engineers (your helpdesk) will solve your day-to-day technical problems.
Network Operations Engineers will maintain and secure your computer systems
Our team gets familiar with your systems and business, and your users get familiar with them.
Becoming an Endsight Client
You may have figured out by now that we value systems and discipline. In order to guarantee a smooth experience, becoming an Endsight client consists of 3 phases.
1) Onboard
Receive a complete IT audit that compares your current state to your business goals
2) Secure
Protect your business with advanced cyber security tools and policies.
3) Maintain & Support
Maximize IT health with proactive and reactive support.
New clients pay a one-time startup fee and a consistent monthly investment, depending upon the number and types of computer users as well as their expected needs. Our process targets a "go live" date about 4 weeks after signature.
Working with us starts with a no-obligation consultation. And we truly mean no-obligation. One of our experienced representatives will take the time to understand your law firm, your current IT environment, and your objectives.
If we feel there is a potential fit, we will develop a detailed proposal and review our thought process with you. No pressure – we don't earn our positive reviews and high retention rates through coercion. We focus on helping businesses like your law firm thrive.
Support ticket customer feedback:
INDUSTRY AND BUSINESS AWARDS
We pride ourselves in the fact that these awards are earned (not bought) and given by reputable organizations.
Get started with a consultation today!
Fill out the form below for your no-obligation-to-buy consultation.
If we're not a fit, we'll let you know: 100% guaranteed!
We want to help you and your legal practice
thrive

!